Install microSD card class-10 type to record footage locally
.1 In a clean surface place the camera with no power to it.
Gently open the black ring by rotating counter clockwise.
.2 Loosen all 4 screws until you can remove the lens cover
Gently remove the lens cover and place aside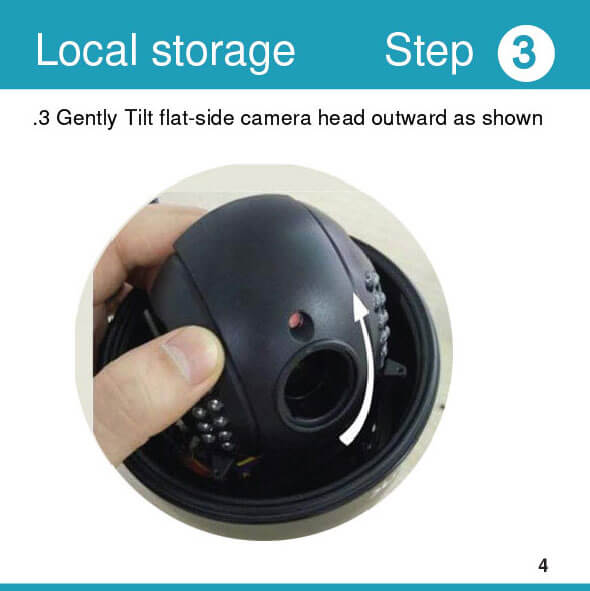 .3 Gently Tilt flat-side camera head outward as shown
.4 Insert Micro-SDHC Class-10 type card in the SD card Slot
To use camera with Wi-Fi >> Do app setup BEFORE mounting
To use camera with PoE or Data cable >> Do app setup AFTER mounting
.1 Do connect dbell camera to your Network
To use the camera with Wi-Fi, connect camera for a
short-term to a Network by data cable
.2 Do power up dbell camera
Camera should be in a steady place if it is not mounted.
Provide power using a PoE switch or PoE injector compliant with IEEE 802.3af/at
or
Provide power using a 12VDC, 1.0A adapter
DC power works only for a short distance, max. 1.5m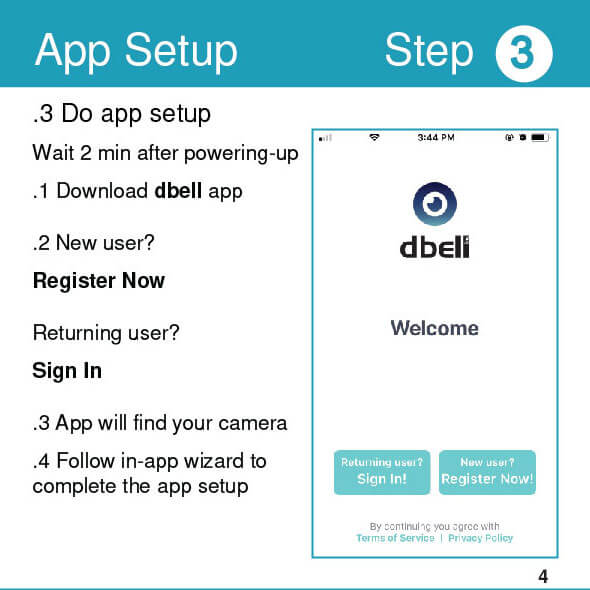 .3 Do app setup
Wait 2 min after powering-up
.1 Download dbell app: iOS App Download
.2 New user?
Register Now!
Registration user name = dbell device user name
Registration password = dbell app & device password
Returning user?
Sign In!
.3 App will find your camera
.4 Follow in-app wizard to complete the app setup
.4 Scan Network
Adding additional camera:
.1 Tap Add Camera
.2 Follow in-app wizard
.3 Complete setup
To use camera with Wi-Fi disconnect data cable
Camera will go offline returning to online quickly
Tips!
If camera is offline after 2min., Check Wi-Fi password.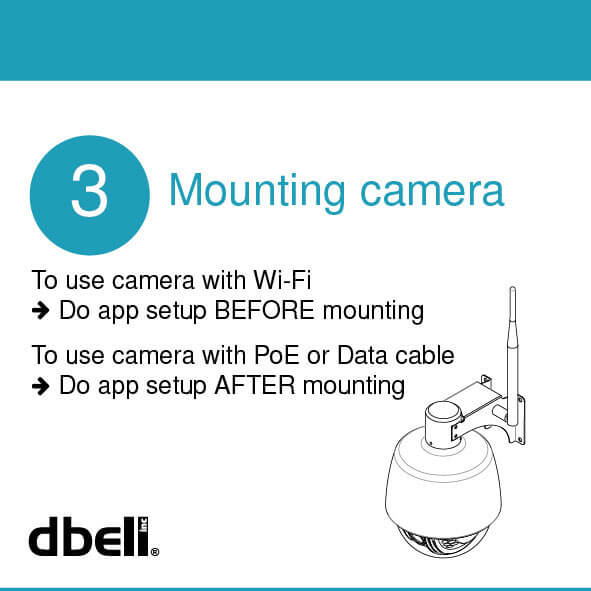 To use camera with Wi-Fi >> Do app setup BEFORE mounting
To use camera with PoE or Data cable >> Do app setup AFTER mounting
.1 Use the supplied mounting Template to mark screw locations
.2 Drill pilot holes for mounting screws. Install back box to the desired location
.3 Install camera on the back box. Attach Wifi antenna.
.4 Camera component identification above Type B, Below Type A
Note: If you are supplying power prior to installation - place the camera in a way so that it can rotate free of obstruction for self-calibration. If you place the camera lens touching any surface while powering up - it will damage the lens cover and also it could damage the PTZ motor.
Why not to use fake email address for registration:
Your email will be used in case you need to reset your password
Your email will be used to send invite to your family members
Your email will be used to create FTP account and to associate email settings
Your email address will be used for faster tech support
If the Wifi password is entered correctly, camera status will be online in less than 2 minutes of disconnecting Data cable. If camera doesn't become online within 2 minutes, see troubleshooting tips here
Recommended Wiring is EIA/TIA 568B standard
Recommendations:
Recommended Network cable is CAT5e/CAT6e, using 568B standard. For colder environment use direct burial CAT5e.
Standard Ethernet distance rules apply, recommended max cable length is 100m or 320ft
Power-Supplying Equipment (PSE) may use either End-Span or Mid-Span.
For every 100 feet of wire needed, there will be a 0.5V drop in the voltage. Calculate the wire length accordingly. Most new CAT-6e cables have the length of the wire printed on the outer sheath.
Congratulations - you have successfully completed camera setup !