To record locally, use Class-10 type microSD card with a capacit 1~16GB
A 16GB capacity card provides approx. 90 days of recordings
In a clean surface place the camera with no power to it.
Gently open the cover pushing downward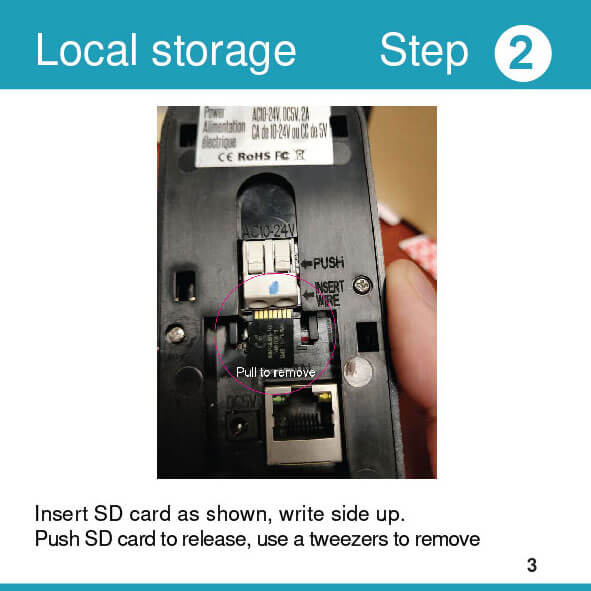 Insert microSD Class-10 type card in the SD card Slot as shown, write side up
To remove, Push SD card to release, use a tweezers to pull down
Push SD card until it is locked.
You may use a tweezers to insert or remove
Put the SD card cover back in to its place
To use dbell with Wi-Fi >> Do app setup BEFORE mounting
To use dbell with Data cable >> Do app setup AFTER mounting
.1 Do connect dbell to your Network
To use dbell with Wi-Fi, connect dbell for a short-term to a Network by a data cable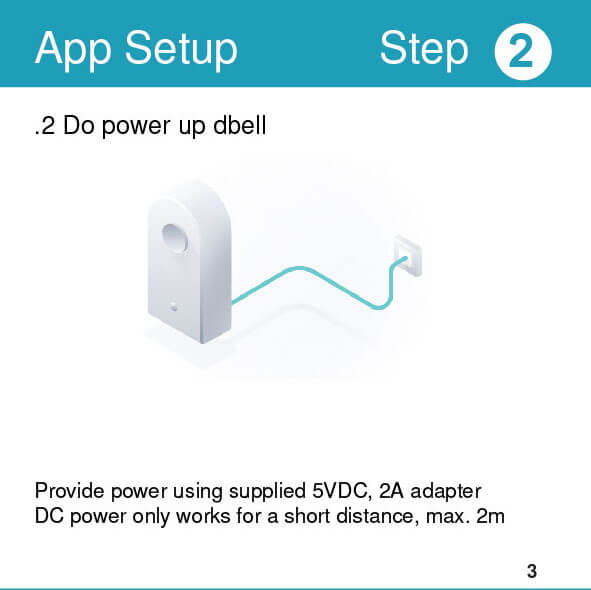 .2 Do power up dbell video doorbell
To power from pre-existing doorbell confirm

Transformer rating is 16V 10VA.

A transformer with a higher VA rating or lower VA rating will not work. e.g., 40VA/30VA/20VA/8VA can't be used. It must be 10VA.

or provide power using a 5VDC, 2A adapter - only works for a short distance, max. 1.5m.
.3 Do app setup
Wait 1 min after powering-up or until you hear Welcome
Phone and dbell should be on the same Network for setup
.1 Download dbell iOS app
For iOS: download here
.2 Download dbell app
For Android: download here
Download and install the dbell app
.2 New user?
Register Now!
Registration user name = dbell device user name
Registration password = dbell app & device password
Returning user?
Sign In!
.3 App will find your dbell
.4 Follow in-app wizard to complete the app setup
.4 Scan Network
Adding additional dbell:
.1 Tap Add dbell
.2 Follow in-app wizard to complete setup
To use dbell with Wi-Fi disconnect data cable
dbell will go offline returning to online state quickly
Tips!
If dbell is offline after 2min. check Wi-Fi password. For more help check in-app Help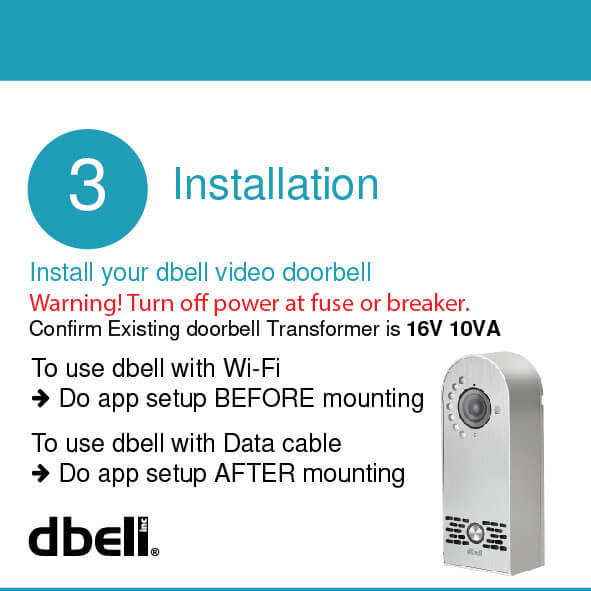 To use dbell with Wi-Fi >> Do app setup BEFORE mounting
To use dbell with Data cable >> Do app setup AFTER mounting
Remove existing doorbell push button and disconnect wires
Insert the 2 low voltage wires into the 2 connectors.
Don't worry about which wire goes to which connector.
Do not apply too much force, connector may break
Insert the wire into the connector as far as it will go.
Gently pull wires to test if it is properly connected.
To release wires, push the connector while pulling the cable
Place dbell on the bracket and tighten security screw
Do not over-tighten the security screws, just flush to bottom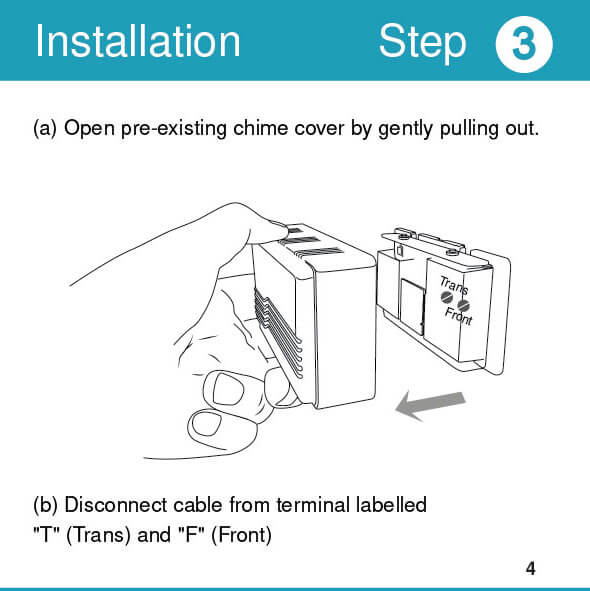 Locate pre-existing doorbell chime
Open pre-existing doorbell chime cover by gently pulling out.
Disconnect cable from terminal labelled "T" (Trans) and "F" (Front)
Join Trans & Front together using a wire nut.
Pre-existing doorbell won't work anymore.
Put the cover back to your pre-existing doorbell chime
Turn on power at the Fuse or Breaker panel
It will take approx. 1 min. for dbell to start operating
Note:
If Wifi password is entered correctly, dbell status will be online in less than 2 minutes of disconnecting Data cable. If camera doesn't become online within 2 minutes, see troubleshooting tips here
Operation
Press the dbell call button.
The plugin doorbell ring and your phone announces a visitor.
A live stream from the camera is displayed on your phone. You can talk and listen to the caller from your phone.
If you have Android TV or amazon fireTV stick - you can view the visitors on your large screen TV.
Congratulations - you have successfully completed wireless setup!