This is the area where you would setup your email, in order to receive messages from your dbell.
To do this, make sure that "Email Event Photo" is toggled ON. This will make sure that whenever an "event" such as motion detection is triggered, a snapshot picture will be taken and sent to the email you set up.
How to get to this page:
1. Choose the dbell you'd like and press the "Setup" which is indicated by a gear symbol on the right side in the main menu page.
2. Select "Advanced Settings."
3. Select "Email settings"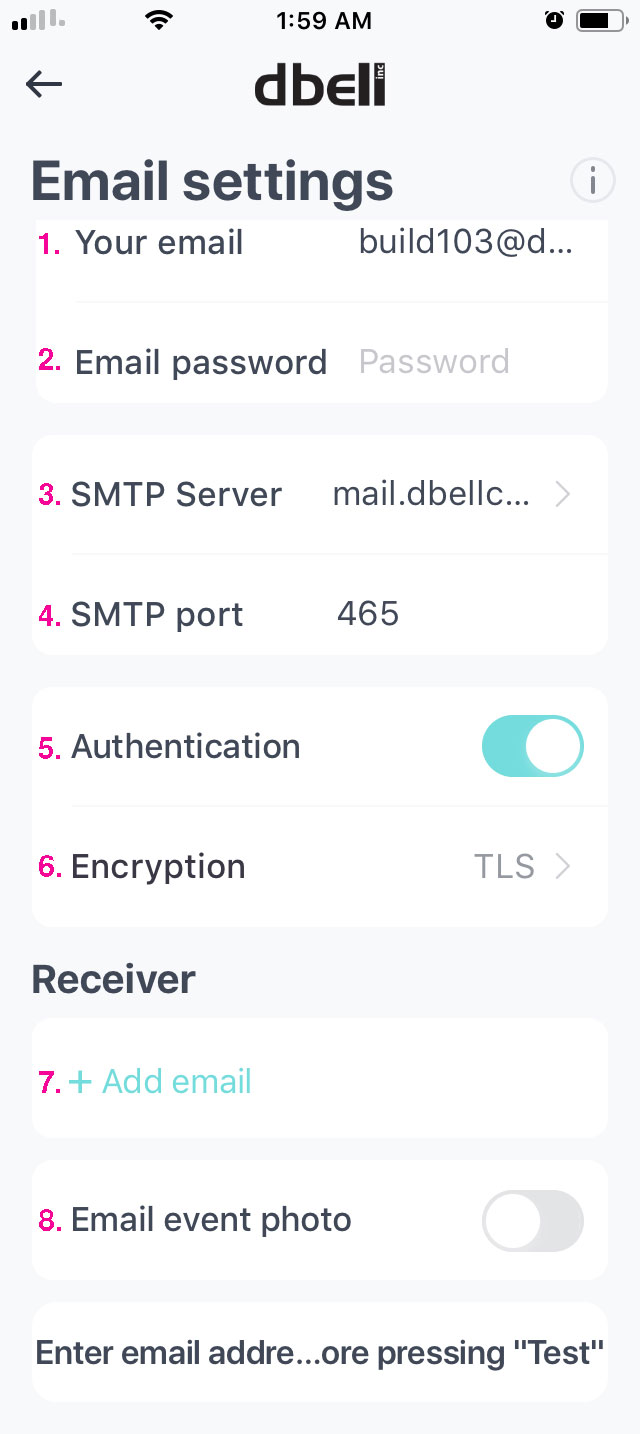 1. Your Email: This area shows you which emails have been configured with the dbell.
2. Email Password: Your email password
Sender: Here you place your email account
3. SMTP server : This shows which server you're sending your email through
4. SMTP port: This shows which port you're sending your email through
5. Authentication: Selecting this will verify the origin of the email. Leave this toggled on at all times
6. Encryption: Here you can select an email encryption type. Encryption is a type of protection for your email so that someone else does not read your email
7. Add email: Select this to add another email you'd like to be notified when an event occurs
8. Email Event Photo: Toggling this option on, will give permission to send a photo to your email each time an "event" occurs.
Send Test Message on 2 emails: Once you have filled out your email information, you can test if everything is working properly by sending a test message to your email. If you have 2 emails that you have given, the the test will be sent out to both emails.