If you want to record locally, use Class 10 microSDHC card 8GB to 128GB (not supplied)
A 32G capacity card may provide approx. 90 days of recording.
Inserting micro SDHC card requires careful handling and attention to details. Remember its a Pro-camera. But you can do it as long as you stick to the instructions.
1. In a clean surface with the camera off, carefully open the Black lens cover by rotating counterclockwise.
2. Remove all four screws and keep safe for later use. If you are not careful, small screw may fall inside!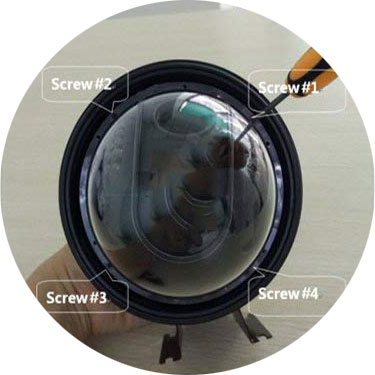 3. Slowly tilt camera head inward as shown, flat side going inward.
4. Insert Micro-SD Class-10 type card in the SD card Slot
DO NOT DISASSEMBLE ANY HARDWARE OR CABLE
DOING SO WILL VOID WARRANTY, CAMERA WILL STOP WORKING.
Hot-plugging is not recommended for SD card, hot-plugging may damage SD card, causing data loss and/or abnormal operation.

Do not turn off power to the device during formatting.

IP Camera does not support formatting into several partitions, so if you want to format it on PC before using it, please format it into one partition.