You can use the following steps if you encounter any of these scenario:
Possible causes:
dbell power up using AC/DC adapter but it doesn't power up using existing doorbell low voltage power
Connecting dbell with existing doorbell power makes humming noise from dbell speaker or humming noise coming from existing/old doorbell chime.
You have Front and Back doorbell buttons, you are replacing Front Doorbell push button with dbell and keeping the rear/side doorbell push button.
Upon dbell installation, it keeps saying Welcome every 1 minute or frequently, Whenever you try to connect to dbell it reboots or goes offline.
When you check the wired doorbell transformer it reads 8V-5VA or 24V-20VA.
Suggested solution: Required Wired doorbell transformer power rating is 16V-10VA.
How do I know my transformer rating?
Find the wired doorbell transformer, it will have the rating shown beside low voltage terminal
Where can I find the transformer in my home?
Most of the time the wired doorbell transformer is at the side of the electrical panel/breaker box. But it varies by location. It could be in a closet adjacent to the chime location or could be located in the attic above the chime, in the basement or crawlspace - your electrician can find it.
Where can I purchase a new or replacement transformer with 16V 10VA rating?
Transformers are available at hardware stores in the same aisle as the door chimes.
How to resolve Hum or Noise issue on dbell installation
If existing doorbell power supply provides insufficient current, dbell may have static hum/noise. To resolve the noise or hum issue please follow the steps:
Where can I purchase a new or replacement transformer with 16V 10VA rating?
Transformers are available at hardware stores in the same aisle as the door chimes. Best place to buy is the Home Depot, in the doorbell section, generally in the electrical department.
Electrical work must be in accordance with national and local electrical codes. If you are in doubt, consult a qualified electrician.
Warning! Turn off power at fuse or breaker before work
Step-1:
Locate your existing doorbell Chime. Turn off the doorbell power supply from the breaker panel.
Step-2:
Open Existing doorbell Chime cover. Please consult your doorbell manufacturer's documentation to find out if it is connected to a low voltage transformer. Most of the indoor chime cover has small tab to hold them in place. Please follow the manufacturer's instruction to open it. In most cases it will open when you pull it.
Step-3:
Disconnect existing low voltage doorbell chimes wires labelled Front and Trans or F & T, or Front and Common or 1 & 2
Step-4:
Join existing doorbell low voltage Trans + Front labelled wires together and secure using a marrette or wire-nut or electrical tape.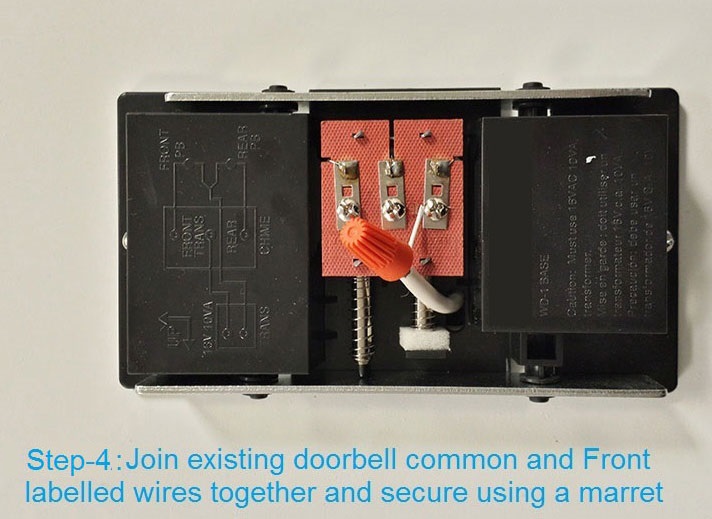 Step-5:
Close the existing doorbell chime cover.
Now connect dbell to your existing doorbell wires, it should power up and greet/welcome you.
If the blue light on dbell doesn't turn on, you may have a defective doorbell transformer.
If dbell powers up using supplied adapter or from Android or iOS adapter but not from existing doorbell power, then existing doorbell transformer is defective. You may consider replacing old defective doorbell transformer or you may consult an electrician.
Warning! Turn off power at fuse or breaker before work